Soft Wash House Washing & Roof Cleaning
Remove stains, mold, and mildew and restore your curb appeal with professional pressure washing services.
Siding, stucco and brick will naturally begin to look green, gray and faded with time. The problem generally starts on the north side of your home, and is due mostly to weather, sunlight and trees. Alain Pressure Washing Atlanta can bring your home back to like new condition and make it look years younger and more inviting. We will get rid of the, old, mildew, algae and dirt that time and the environment have left behind.
Having the professionals at Alain Pressure Washing Atlanta handle your house cleaning projects will not only make an impressive impression, but will keep you safe and protect your largest investment. Attempting to pressure wash from a ladder is very unsafe and should not be attempted by any homeowner. We have specialized equipment, chemicals and techniques which typically allow us to remain safely on the ground. Many of our customers actually own pressure washers but they still call us to clean their homes because we deliver better results without harming anyone or anything.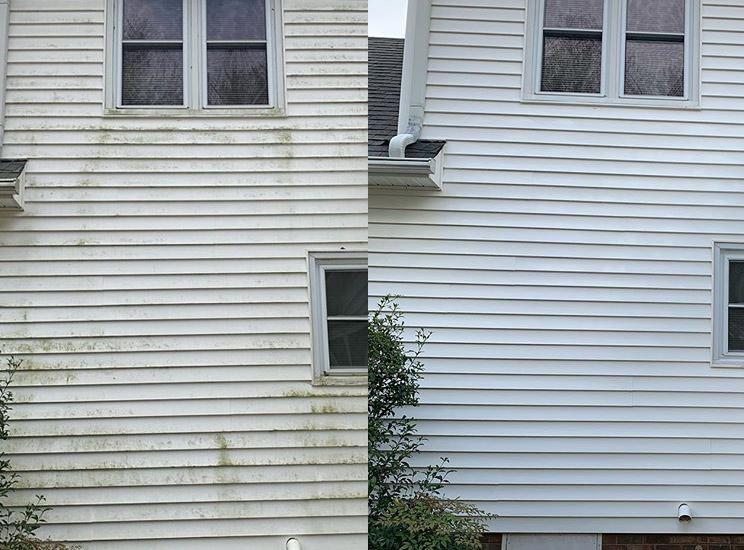 Let us clean your roofing systems and protect your home or business from mold and mildew or just help reinvigorate curb appeal.
Many of our customers thought they needed to re-paint until we came and restored their home back to its original color and condition. Pressure washing can also help your siding, stucco and brick last years longer by putting an end to the water damage and rotting caused by the moisture retained in the mold, mildew and algae.
Siding, stucco and brick cleaning prices start at 10/ SQ FT. However, the size of the project, extreme heights to be cleaned, severity of the stains, and chemicals needed all play a role in the final price. Contact us today to have a representative come out to give you a fast, hassle-free price quote and answer any questions you may have.