Our team of technicians have the equipment and expertise to clean all types of materials and textures safely.
Stone, title and pavers will naturally begin to look dirty with time due mostly to Houston weather, sunlight and landscaping. Alain Pressure Washing Atlanta can bring your stone and title back to like new condition while making your home look years younger and more inviting by removing the mold, mildew, algae and dirt that time has left behind.
Having the professionals at Alain Pressure Washing Atlanta handle your patio, pool area, walls and walkway cleaning and restoration projects will not only make an impressive impression, but also project you and your family from slipping due to the growth of slimy mold, mildew, and algae. Pressure washing can also reduce allergies and keep your floors much cleaner by removing what would otherwise be tracked inside your home.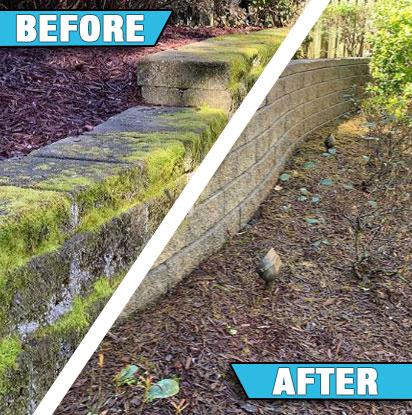 Rejuvenate your property and remove dirt, grime, and other unwanted material with our expert exterior cleaning services.
Stone, tile and paver cleaning and restoration prices start at 20 / SQ FT. However, the size of the project, severity of discoloration, chemicals needed, furniture and plants to be moved, posts, railing and stairs all play a role in the final price. Contact us today to have a representative come out to give you a fast, hassle-free price quote.
Pressure washing is an extremely affordable and efficient way to maintain your surfaces. We use the proper techniques and ecologically friendly cleaning solutions to restore almost any surface. By scheduling regular pressure washing services, you can help protect and prolong your property investments.